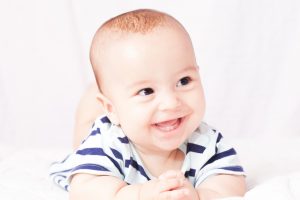 You're walking down the hallway with your infant straddled to your hip, when their pacifier suddenly falls out of their mouth and onto the floor. You quickly pick it up, clean it in your mouth, and return it to your little one before they can start to get fussy. Does this scenario sound familiar?
We often pick up childcare habits from our own parents, relatives and close friends. However, some of these "innocent" habits may not be so safe after all, especially when it comes to your child's oral health. In today's blog post, a children's dentist in Castle Rock reviews some common pacifier habits and shares preventive oral care tips for your little one's growing teeth.
How Pacifier Habits Can Affect Infant Oral Health
Some parents find that a pacifier dipped in sugar, honey, juice or other sweetened drinks can help calm their upset infant or help them fall asleep at night. However, giving your little one a pacifier loaded up with sugar increases their risk of tooth decay. When it comes to using pacifiers to help calm your child, it is best to stick with the basics and leave off any sweeteners.
How you clean your child's pacifier can also impact their oral health. If a pacifier falls loose and onto the ground, do not clean it with your mouth before returning it to your young son or daughter. Tooth decay can begin when cavity-causing bacteria passes from the saliva of a parent or caregiver to a baby. Stick to washing pacifiers and other items like baby feeding spoons with hot soapy water to help keep your baby's teeth healthy.
How to Care for Babies' Teeth
Baby teeth more easily decay compared to secondary, or adult, teeth, so it is critically important to practice proper oral care with your little one until they are old enough to brush on their own. Even before any teeth appear in your baby's mouth, you should use a clean, moist gauze pad or washcloth to gently wipe their gums. As soon as their teeth do come in – usually around six months of age – help them brush twice a day using a fluoride toothpaste in an amount the size of a grain of rice.
When to Schedule Your Baby's First Dental Visit
Don't wait until your child is ready to begin preschool – or worse, when a dental emergency happens – to schedule their first trip to the dentist. According to the American Dental Association, children should see a dentist after their first tooth appears or before their first birthday. Early intervention is key to safeguarding your child's tiny new teeth, so pick up the phone early and call a pediatric dentist in Castle Rock.
About the Practice
For nearly a decade, parents have trusted their children's oral care to the expert team at Castle Rock Smiles Pediatric Dentistry. They understand that each child is unique, which is why they offer individualized treatment that caters to the unique dental needs of each boy and girl that walks through their doors. If you are searching for a dentist for kids in Castle Rock, contact Castle Rock Smiles via their website or by phone at 303-660-5373.