Athletic Mouthguards – Castle Rock, CO
Protecting Small Smiles from Injury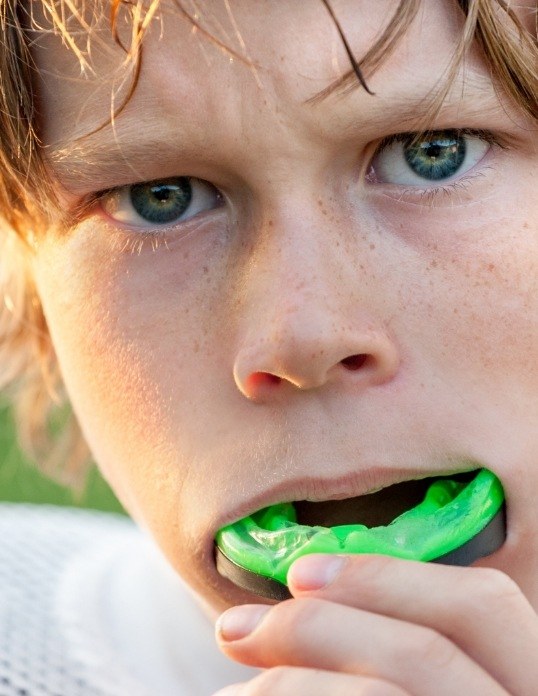 Do you have a child that plays a sport that could injure their priceless grin? While physical activity is great for your little one, it's important to keep their teeth and jaw protected at all times. That's why, at Castle Rock Smiles Pediatric Dentistry, we offer custom-fitted athletic mouthguards for Castle Rock, CO children, so you don't have to anxiously watch them on the field, worrying about them getting injured. Not only are our uniquely crafted mouthguards made from some of the most durable and protective materials, but they're also made especially for your little one's dental structure, which makes them more comfortable and effective than over-the-counter sports guards.
Why Choose Castle Rock Smiles Pediatric Dentistry for Athletic Mouthguards?
Highly Customized for Optimal
Comfort and Protection
More Durable Than
Store-Bought Solutions
Our Dental Office Accepts
Most Dental Insurance Plans
Why Get an Athletic Mouthguard from a Dentist?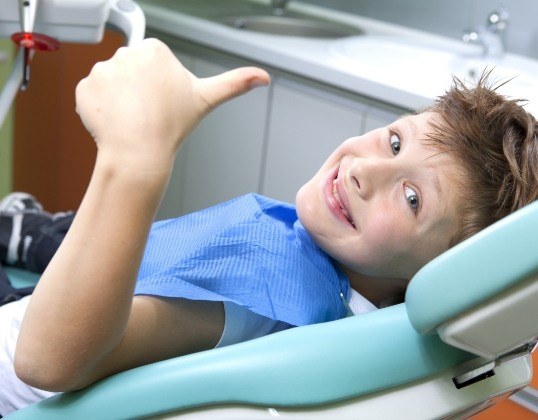 Many parents wonder why they should choose a sports mouthguard from a dentist instead of store-bought protective gear. At Castle Rock Smiles Pediatric Dentistry, our dental mouthguards a customized to fit your child's unique oral structure. Not only does this maximize the protection of their facial muscles, jaw, and teeth, but it also makes it more comfortable for them to run, jump, and play with. It's not uncommon for children to have difficulty breathing while they play with an over-the-counter bite and boil mouthguard, but you won't have to worry about this issue when you get one from a dentist.
Without a protective mouthguard, your child could end up with a fractured jaw or a broken or knocked-out tooth, which could result in the need for thousands of dollars' worth of medical or dental bills. Although customized sportsguards have a higher up-front cost, they can save you financial and emotional stress down the road, which makes this investment well worth it!
How Are Mouthguards Made?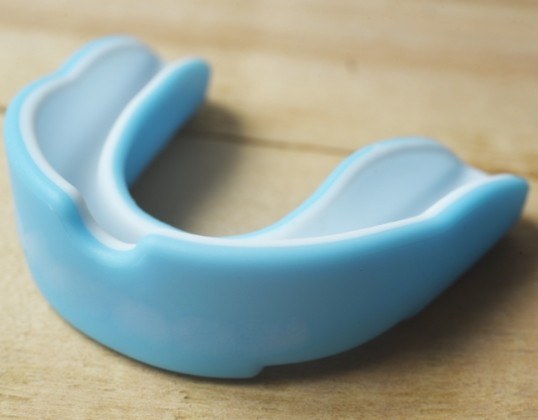 We create your child's custom-made mouthguard by first taking impressions of their teeth. We can make oral appliances for those with or without braces, which is one of the many advantages of coming to our pediatric dental office over picking a store-bought product. Once we have created a mold of your child's teeth, we'll send it over to an expert lab to have their personalized mouthguard fabricated. During the second appointment, we will ensure that it fits your little one's mouth properly, and shave down any excess material for a comfortable fit. After their final appointment, they'll have a mouthguard that lasts much longer than over-the-counter products and it will fit their mouth perfectly.
Maintaining Your Child's Mouthguard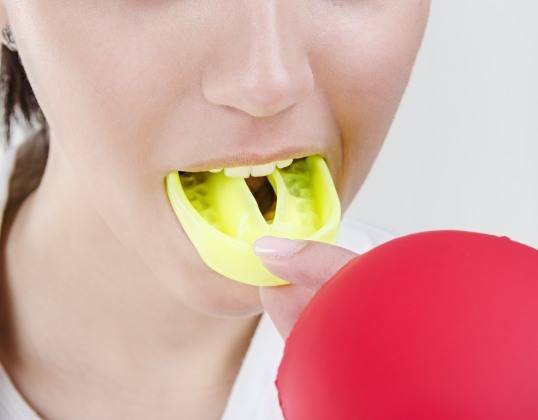 Not taking proper care of your child's mouthguard can put them at risk of serious oral health issues like tooth decay. Your kid may rinse their mouthguard out with water, but that's simply not enough. Their protective oral appliance should be brushed with toothpaste regularly to remove built-up debris. Then, rinse it with soapy water for the best possible clean. You can also soak the guard in antimicrobial solutions to reduce the number of bacteria. It's important to avoid using hot water on their mouthguard because it could permanently warp the plastic.
If you have any questions or would like to learn more about how a customized sportsguard can benefit your active child, be sure to contact our specialty dental office today! Our team will be more than happy to help you schedule an appointment.
Mouthguard Frequently Asked Questions
At Castle Rock Smiles Pediatric Dentistry, we're committed to protecting small smiles from injury. If you have a little athlete of your own, it's essential that you protect their smile with a custom mouthguard. For your convenience, we've gathered some of the most common mouthguard FAQs below so you can learn more about this important piece of safety equipment. When you're ready to have your son or daughter fitted for a mouthguard, schedule your consultation today. If you don't see the answers you're looking for, don't hesitate to give us a call and we'll be more than happy to help.
Which Sports Should My Child Wear a Mouthguard for?
Even though only a few organized sports require the use of a sports mouthguard, there are plenty of activities that could injure your child's precious smile! Dental experts recommend wearing a mouthguard for:
Ball-and-stick sports like baseball, softball, and racquetball.
Field or court sports like basketball, soccer, and football.
Seasonal physical activities like skiing, snowboarding, surfing, and waterskiing.
Outdoor activities like cycling, skateboarding, rollerblading, and horseback riding.
Hand-to-hand sports like martial arts and boxing.
At What Age Should My Child Start Wearing a Mouthguard?
Children of any age can be fitted for a comfortable, high-quality mouthguard. Since some children start playing sports at a very early age, we can craft custom appliances for smiles of all sizes. If your child regularly participates in an activity that could potentially injure their teeth, they should wear a mouthguard.
Can My Child Get a Mouthguard If They Have Braces?
Yes, we can make personalized mouthguards for children undergoing orthodontic treatment. In fact, a mouthguard is especially important for children with braces! These appliances can shield the soft tissues from potential injuries and cuts from the wires and brackets of braces if they get his in the mouth.
What Do Mouthguards Help Protect Against?
Mouthguards help cushion a blow to the face, which in turn help protect your child from:
Lacerations on the soft tissues, including the gums, tongue, cheeks, or lips.
Chipped or cracked teeth
Broken or fractured teeth
Teeth that have been pushed out of place
Knocked-out teeth
Jaw fractures and dislocation
What Should I Do If My Child Knocks Out a Baby Tooth?
While a mouthguard should help prevent your child's teeth from getting knocked-out, accidents can still happen. In any case, it's always a good idea to be prepared for anything. While baby teeth aren't a permanent fixture in your child's smile, it's still important to take note if one is knocked out suddenly or unexpectedly. If the tooth is broken, or if there are still shards of it in place, give us a call immediately so we can give you first-aid advice and schedule an emergency appointment for you. If the tooth was knocked out cleanly, you should still give us a call anyways. When baby teeth are lost prematurely, the surrounding teeth may crowd into the open space and trap the permanent tooth underneath in the gums. To prevent this from happening, we may place a space saver.
Mouthguards are an essential piece of safety equipment for athletes of all ages! Give us a call today to schedule your consultation and have your child fitted for their custom-made appliance.