Dental Checkups & Teeth Cleanings – Castle Rock, CO
Helping Your Little One Smile Brighter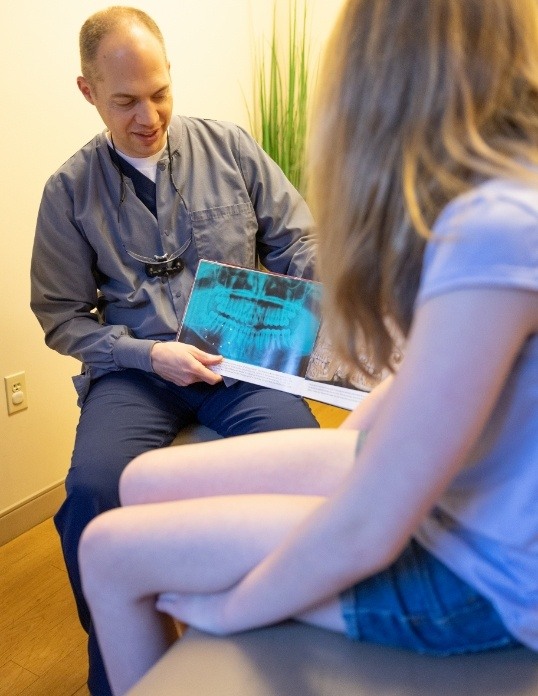 Dr. Layne Benzley and the rest of our children's dentistry team strongly recommend that children attend their first dental visit within six months of their first tooth erupting, or by the age of one. In fact, we're glad to offer a free initial exam for first-time pediatric dental patients under the age of 18 months. We hope that this child's first dental appointment will be the start of a long-lasting relationship! There's nothing we enjoy more at Castle Rock Smiles Pediatric Dentistry than being able to grow with your little one and help them enjoy the strong, healthy smile they deserve. Routine dental checkups and teeth cleanings at our Castle Rock, CO pediatric dental office are the first step of this goal, allowing us to understand their oral development, locate potential issues, and provide valuable information to parents. Contact our pediatric dental office for preventive dentistry today! We enjoy seeing young dental patients from all over the greater South Denver area.
Why Choose Castle Rock Smiles Pediatric Dentistry for Dental Checkups & Teeth Cleanings?
Accommodating Dentists That Listen
to Your Child's Needs
We Accept Many
Dental Insurance Plans
Modern Technology in a
Warm and Welcoming Pediatric Dental Office
What to Expect During Your Child's Dental Checkup and Teeth Cleaning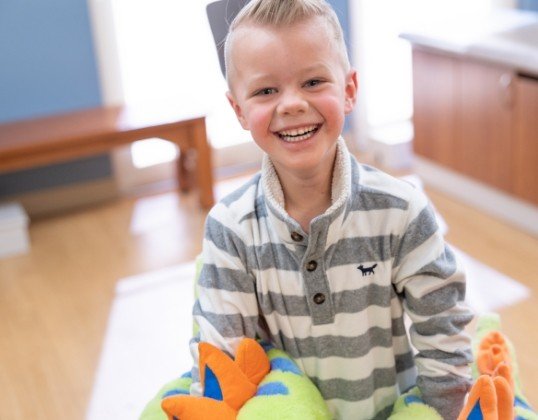 At your kid's dental checkup, we'll make sure to carefully examine every one of their pearly whites, no matter how many they have, as well as their gums, tongue, head, and neck to make sure everything is A-Okay. We'll check for issues that might require additional treatment, like cavities. Once Dr. Benzley has determined that your kid's teeth are alright, our skilled dental hygienist will work their magic.
Your child's dental cleaning should be smooth sailing. We'll polish their pearly whites until they sparkle and shine. This polishing material also makes it hard for bacteria to stick to the teeth. Once this step is finished, we'll finish it off with fluoride treatment. Fluoride is a mineral that occurs naturally in a lot of foods and most drinking water. This is a good thing, since fluoride has been proven to be beneficial for your teeth. It actually makes tooth enamel stronger, providing them with better defense against decay.
How to Help Your Child Feel Comfortable at Their Appointment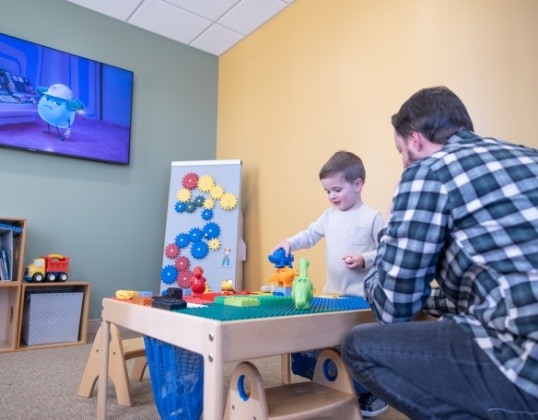 It's easy for little ones to get scared in the dental office. That's why we've got some tips for you to help ease into the situation:
Bring along a favorite toy or book so that they have something to turn to for comfort if they become scared.
Arrange a visit beforehand so that Dr. Benzley and the rest of our team can meet your little one and show them around the specialty dental office before any actual treatment begins!
Have your child sit back in an armchair or recliner and pretend to inspect their teeth so they have some idea of what to expect at our dental office.
Children can be very good at picking up on their parents' true emotions. If you have negative feelings about dental care, make sure to stay positive so that you don't unintentionally pass them on, and enlist your spouse or another family member to oversee your son or daughter's appointment if you just can't maintain a brave face.
At-Home Dental Hygiene Tips for Kids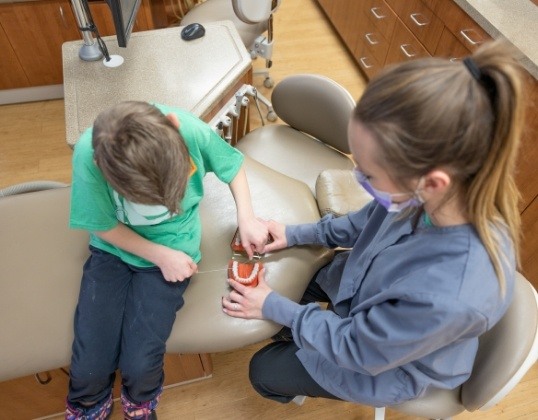 Keeping your kid's teeth clean is about more than coming in to see us twice a year. You also have to implement excellent oral hygiene habits at home. Here are some tips to do just that:
Make sure you brush and floss every day. Children love to copy Mommy and Daddy, and you can use that to your advantage to make sure their teeth stay clean.
As soon as your son or daughter has two teeth that touch each other, they should be flossing between them. You may need to help them until they have the dexterity to accomplish this on their own.
Offer mouth-healthy alternatives to sugary drinks and snacks, like cheese, yogurt, fruits, and veggies.
Let your child pick out a fun electric toothbrush that plays a song for the recommended two minutes of brushing time.
Consider creating a goal chart to track their progress of how much they brush. Offer a teeth-healthy reward when a certain amount of time has passed of daily brushing and flossing.
Frequently Asked Questions ABout Dental Checkups & Teeth Cleanings
Parenting doesn't come with a guidebook, so it's completely natural to have questions about how to best care for your child's smile! At Castle Rock Smiles Pediatric Dentistry, we're committed to helping your little one smile brighter and teaching you all about their oral health. For your convenience, we've gathered a few common questions below, but don't hesitate to call us if you don't see the information you're looking for and we'll be happy to help!
When Should Children Start to Use Toothpaste?
Your child's teeth are vulnerable to cavities as soon as they erupt! When those tiny pearly whites start to come in, you should clean them with fluoride toothpaste on an age-appropriate sized toothbrush. You should use a smear of toothpaste about the size of a grain of rice until they're three to six years old. Then, they can brush with a pea-sized drop of toothpaste. Be sure that they're spitting out any excess toothpaste and not swallowing it!
Why Are Baby Teeth So Important If They're Going to Fall Out Eventually Anyway?
Baby teeth may not be a permanent part of your little one's smile, but they're very important. These tiny teeth help your child chew comfortably, speak clearly, and feel confident about their smile. Additionally, they save space in the jaw for their permanent teeth and help them come in correctly.
Are Thumb-Sucking and Pacifier Habits Harmful for My Child's Teeth?
Thumb and pacifier sucking habits are natural in young children and will usually fade on their own over time. However, these habits can become a problem for your child's oral development if they persist past the age of three or four. The extra pressure can lead to crooked permanent teeth, bite problems, and orthodontic issues. During your child's dental checkups, we'll help you keep an eye on these non-nutritive habits. If needed, we can offer practical advice and proven methods to help you assist your little one in breaking these habits.
How Safe Are Dental X-Rays for Children?
During your child's dental cleaning and checkup, we may recommend they have dental X-rays taken. This helpful tool allows us to monitor their oral health beneath the gumline and catch any issues that may be hidden from sight. Your little one's health and safety are our top priority, which is why we use digital X-rays and lead aprons to reduce radiation exposure by up to 90%.
What Should I Do If My Child Knocks Out a Tooth?
If your child knocks out a baby tooth unexpectedly, give us a call right away. In some cases, we may need to place a space saver to prevent the neighboring teeth from crowding into the space and trapping the permanent tooth underneath.
If your son or daughter knocks out a permanent tooth, you need to see us within 30-60 minutes for the best chances of reattachment. Be very careful to only handle the tooth by the crown and avoid touching its roots. Rinse it off gently, but don't scrub off any tissue. If you can, have your child keep their tooth between their gums and cheek. Alternatively, you can store the tooth in a clean container filled with spit or milk.
We are passionate about helping your child's precious smile stay happy and healthy as it grows. If it's time for their checkup and cleaning, give us a call today to schedule their next appointment.