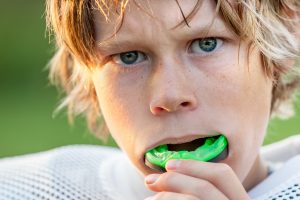 As a parent, you know how fast a situation can turn for the worse, which is why you are always concerned for your child's safety whenever he or she is involved in any type of sporting event. A particular area of concern for you is how sudden impact to your child's mouth can result in tooth loss. You've learned about the value of wearing mouthguards in Castle Rock, but your child doesn't think it looks cool enough. What can you do? As you read on, your pediatric dentist provides some helpful suggestions!
Understanding the Looming Threat
One of the reasons that younger people like to live on the edge is that they have yet to understand the threats facing them. When it comes to playing sports, it's very important – especially for kids with all their permanent teeth – to be fitted with a custom mouthguard.
Here are some convincing statistics you can share with your child:
More than 5 million teeth are knocked out each year.
Of the dental injuries that occur each year, 13-39% are sports-related.
Since football players were first required to wear mouthguards in 1962, the percentage of orofacial injuries has declined from 50 to less than 1%.
How a Mouthguard Protects Your Child
The statistics show the obvious impact of wearing a mouthguard. Still, you may be wondering how the appliance provides protection.
Think of a custom mouthguard as the equivalent of having a bumper on the front of a car. Its main function when an accident occurs is to absorb a great deal of the impact and redirect the energy away from the driver.
Now imagine the teeth as the driver. The custom mouthguard will help to prevent the teeth from receiving the direct trauma of impact.
How Your Dentist Can Help
Once you reiterate to your child the importance of wearing sports guards in Castle Rock, you can then reach out to your local pediatric dentist to have a custom appliance fabricated. Unlike the store-bought alternatives, a custom mouthguard will be specially designed to fit your child's mouth. It will then lessen the damage to the mouth, lips and gums.
The Value of a Consultation
A final way to get through to your child about the necessity of a mouthguard is to bring him or her in for a consultation with your children's dentist in Castle Rock. The professional will take the time to talk to your child about the importance of safety so the necessary steps can be taken to prevent any unwanted injuries.
So to get the help you need, reach out today!
About the Author
Dr. Layne Benzley received his dental degree from the University of Iowa and then went on to earn his pediatric dental specialty certificate from the Eastman Dental Center at the University of Rochester. Also a Diplomate of the American Board of Pediatric Dentistry, Dr. Benzley has the training and experience necessary to provide the absolute best in care to his patients. He provides children with custom mouthguards at Castle Rock Smiles, and he can be reached for more information through his website.