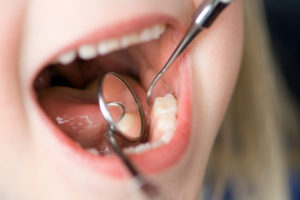 The next school year is just around the corner! Between the hustle and bustle of gathering supplies and getting your son or daughter ready to go back to school, did you remember to schedule their biannual dental checkup? These routine visits play a key role in keeping your little one's oral health on track and preventing dental issues that could cause them to miss school later. Here are five questions to ask your Castle Rock pediatric dentist during your child's back-to-school checkup.
1.) How Is My Child's Overall Dental Health?
Each of your child's routine dental checkups includes an examination of their teeth, jaw, gums, and general oral development. Your pediatric dentist will make sure your child's teeth are lining up correctly, their bite is aligned, and their baby teeth are healthy and coming out according to schedule. They'll be focused on spotting and stopping any issues that could potentially become distracting or painful problems for your son or daughter once school starts.
2.) Will My Child Get a Dental Cleaning Today?
Regardless of how well you or your little one cleans their pearly whites, it's likely that some cavity-causing plaque and bacteria will accumulate behind their back molars and between their teeth. A quick and comfortable professional cleaning can easily remove the particles that have built up in those hard to clean places and polish away surface stains on their teeth. When school starts, your child will be ready to show off a healthy, shiny, and refreshed smile.
3.) Does My Child Need an X-Ray?
X-rays allow your child's pediatric dentist to monitor their oral health beneath the gumline. They'll check to see if their tooth roots are healthy, if there are any cavities hiding between teeth, and keep tabs on how their teeth are developing. Your son or daughter won't need to have x-rays taken at every visit, but they should be taken periodically to ensure your little one's oral health is on track.
4.) Can You Check My Child's Mouthguard?
If your child plays sports, make sure to bring their mouthguard along to their appointment. If they're in the middle of a growth spurt or losing their baby teeth and getting their permanent ones, their mouthguard may not fit as well as it needs to in order to protect their teeth, gums, and jaw. Your dentist will carefully check for wear, tear, and fit to see if they're in need of a new custom-made device.
5.) What Are Dental Sealants & Does My Child Need Them?
Dental sealants can be painted onto your child's teeth to act as a protective barrier against cavities. This quick, safe, and easy treatment is typically recommended when a child's permanent back molars begin to come in, usually around the age of six. Remember, dental sealants are not designed to substitute regular oral hygiene, but they can be a huge help as your child learns to brush and floss their teeth.
Make sure your child is ready to show off their smile when they go back to school! Schedule their back-to-school checkup to keep their growing smile happy and healthy.
About the Practice
With over a decade of experience and advanced pediatric training, Dr. Layne Benzley can help your son or daughter overcome nearly any oral health issue. He's proud to offer exceptional preventive care, including specialized treatments like sealants and sports mouthguards, alongside a kid-friendly environment. To schedule your child's back-to-school dental checkup, he can be contacted via his website or at (303) 660-5373.