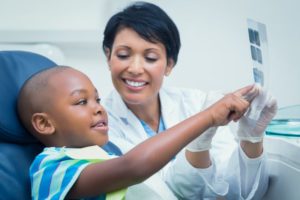 People have been practicing dentistry since ancient Egypt, Greece, and Rome. Thankfully, caring for teeth looks a lot different today than it did back then! Alongside improved techniques and materials, one of the most important advancements in dentistry was the development of pediatric dentistry. Specialized dental care for children first came about in the early 1900s, and has since gone through a variety of changes to get to where it is today. Read on as we take a closer look at the history of pediatric dentistry and why it matters for your little one today.
The First Step Towards Children's Dental Care
In the past, children simply went to the same general dentist that their parents did. That is, if they went to the dentist at all! Then, in 1909, a trained dentist named Minnie Evangeline Jordon opened up the first dental practice that was just for kids. With experience, research, and a true heart for the wellbeing of children, she contributed major developments in the world of pediatric dentistry. She presented lecture, wrote papers, and even published the first pediatric dentistry textbook! Thanks to Minnie Jordon, the "pioneer of pedodontics," the movement for children's dentistry began.
National Recognition of Pediatric Dentistry
Thanks to Jordon's outstanding efforts and findings, the American Dental Association officially recognized pediatric dentistry as its own specialty in the 1940s. Now that children's dentisty was endorsed by such a well-known and respected organization, pediatric oral healthcare was finally in the spotlight. In fact, it prompted a 50% increase in children visiting the dentist annually. A decade later, the Pediatric Dentistry Training Program was founded to boost the number of dentists trained and able to treat children.
Children's Oral Health at the Turn of the 20th Century
The next big moment of recognition for pediatric dentistry was in the late 1900s, when the Secretary of Health and Human Services published a national report on the importance of children's oral health. All over the nation, more and more parents learned about how the wellbeing of their child's teeth influenced their general health. The American Dental Association began to develop more best practices regarding children's dental products and techniques, and they officially began to recommend that children get their first dental checkups by their first birthdays.
Pediatric Dentistry Today: Specialized Care for Growing Smiles
Nowadays, we are well aware that children have unique oral healthcare needs as they grow. From frenectomies in infants, to cavities in baby teeth, to wisdom teeth in teenagers, modern pediatric dental care is designed to meet children every step of the way as their smile develops. Plus, in addition to clinical knowledge, pediatric dentists are specially trained in dealing with tantrums, tears, and fears. Thanks to the history of pediatric dentistry, your little one can get the specialized oral healthcare they deserve.
About the Practice
At Castle Rock Smiles Pediatric Dentistry, Dr. Layne Benzley is proud to offer gentle, fun, and effective dental care to growing smiles. He received his DDS from the University of Iowa and his pediatric dental specialty certificate from the Eastman Dental Center at the University of Rochester. His office is outfitted with the latest dental technology for comfortable, precise treatments, and his staff is dedicated to treating every patient like family. To learn more and schedule your child's next appointment, they can be reached via their website or at (303) 660-5373.