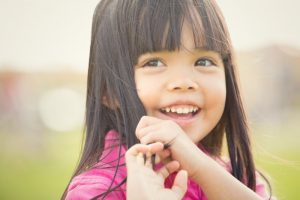 Being able to watch your child develop is a priceless feeling for a parent. There are several milestones that will be crossed – the first words spoken, steps taken and the first showing of teeth. Your children's dentist in Castle Rock says that when this occurs, though, one of the first steps should be to bring your little one in for a preventive dentistry visit. Read on to find out why this is so important and get other tips for caring for your kiddo at home.
Why Does Your Child Need to Visit the Dentist?
As stated above, when your child's first teeth erupt, you should bring him or her in for the first dental visit. This is a great opportunity to establish the relationship between your child and dentist for kids in Castle Rock because of the following benefits:
These visits will ensure that your kiddo's oral development is progressing as it should. For example, your dentist will make sure that the teeth are growing in correctly and aren't being affected by bacteria and plaque.
Early dental visits are also important for introducing your child to the habit of attending preventive care appointments – something that will carry over into his or her adult life.
How Often Should Your Little One Visit the Dentist?
After the initial visit to the dentist, you should take your child back at least every six months for preventive care, which will include a thorough cleaning. This is very important for kids because they have a greater tendency for being inconsistent in their oral hygiene practices and are sometimes more likely to consume snack foods that contribute to tooth decay.
While there, they'll also receive a tediously done examination to make sure that no cavities or other oral maladies are present. If any are found, though, your dentist will be able to address them before they mushroom into greater problems.
How to Care for Your Baby's Teeth at Home
Along with visiting your dentist for preventive care, there are a few things that should done at home on a consistent basis after your child's first teeth erupt. Here are a few tips to keep in mind:
Oral Hygiene – This is the perfect time to introduce him or her to how to brush properly. There are several toothpastes geared for young children that you can choose from. Typically, they will have little-to-no fluoride, so that if your child swallows it, it won't be harmful.
Introduce a Pattern – Along with introducing the proper way to clean the teeth, it's also vital to instill the necessity of brushing two times a day. This sets a pattern that will ensure your child excellent oral health well into the future.
When to Switch to Fluoridated Toothpaste – Around the third birthday, you can start transitioning your kiddo to fluoridated toothpaste. Using just a pea-sized amount, you can teach your child how to brush without swallowing.
Watching your child grow and develop is an exciting time of your life. By keeping the above guidelines in mind, you can rest assured that his or her oral health will be in good shape. So to schedule your first visit, reach out to your pediatric dentist in Castle Rock today!
About the Author
Dr. Layne Benzley earned his dental degree from the University of Iowa and then went on to receive his pediatric dental specialty certificate from the Eastman Dental Center at the University of Rochester. Additionally, he is a Diplomate of he American Board of Pediatric Dentistry. Dr. Benzley helps children get off to the right start with their dental health at Castle Rock Smiles. He can be reached for more information through his website.