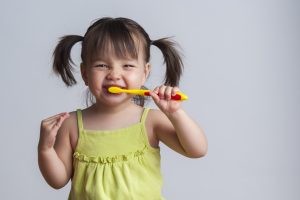 You've happily watched your little one grow, which has included the eruption of the first teeth. Since you've read that this is the best time to start brushing their teeth, you're eager to start teaching them how to clean them properly. To help you in your quest for excellent oral health, your children's dentist in Castle Rock weighs in with tips on how to introduce excellent oral hygiene practices.
Introduce These Oral Hygiene Practices
The two most important ways of cleaning the teeth that should be introduced to children early on are brushing and flossing. Here's why:
Brushing – Using a toothbrush properly helps to remove leftover food particles by agitating them with the back-and-forth action of the bristles. This prevents a host of problems by not allowing bacteria to fester and develop into harmful cavities.
Flossing – Another very important form of oral hygiene that you can introduce is flossing. It helps to clean the remaining 40 percent of the tooth surface that brushing can't address. Keep in mind, though, that since it requires a little more coordination than brushing, you'll need to help your kiddo with this task a little longer to ensure that it's done correctly.
Depending on your child's age, your dentist for kids in Castle Rock says there are also different ways to perform oral hygiene.
Age-Specific Oral Hygiene
Here are some tips for cleaning your little one's teeth at different stages of development:
Before the Teeth Erupt – Even when there aren't any teeth present yet, you can start your baby's oral hygiene by gently rubbing the gums using a clean, moist gauze pad or washcloth.
Post Eruption – After the first teeth erupt, you should help your child brush twice a day using a child-size toothbrush and a toothpaste that has a very small amount of fluoride, since children are more likely to swallow it. All you need is a pea-sized dollop of paste for each session.
Children Ages Three to Six – Around the age of three, you can start encouraging your child to brush on his or her own. By this time, there should have been enough frequency with brushing for him or her to know the proper technique and to have the habit of practicing oral hygiene on a regular basis ingrained into his or her psyche.
One of the great things about children is that they soak up information like a sponge. By introducing the proper habits to them at a young age, you are ensuring their oral health well into the future.
To schedule a preventive care visit, reach out to your pediatric dentist in Castle Rock today!
About the Author
Since graduating from the University of Iowa, Dr. Layne Benzley has been steadfast in his efforts to provide children with the absolute best in oral care. A certified Diplomate of the American Board of Pediatric Dentistry, Dr. Benzley is qualified to provide the type of unique care that children need at Castle Rock Smiles. He can be reached for more information through his website.