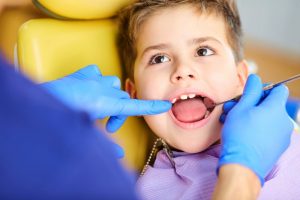 Did you know that one person dies every hour of oral cancer every single day? About 53,000 people in the United States are expected to be diagnosed in 2019. Some of these may be children. When you think of oral cancer, you likely associate it more with smoking or exposure to HPV—not kids. Although rare, oral cancer in children is possible and can be deadly. Keeping reading to learn more information about oral cancer screening in Castle Rock for your child.
Why are oral cancer screenings important?
As with many other cancers, early detection is key to increasing the odds of overcoming the oral cancer. In fact, diagnosing and treating oral cancer in the early stages raises the survival rate to 80 percent or better. When it is found later on, only about 60 percent of patients survive five years after treatment.
To catch oral cancer early, this screening should be performed regularly. That's why your dentist for kids in Castle Rock includes one in your child's dental checkup every six months. By keeping this appointment, you help ensure that your child can remain healthy and stay ahead of potential illness.
What are the signs of oral cancer?
Oral cancer can manifest in many ways, including the following:
Red, white, or speckled patches.
Areas of thickening tissue.
Lumps or swellings.
Unusual sores that don't heal within two or three weeks.
Unexplained bleeding in the mouth.
Unexplained numbness in the face, mouth, or neck.
Difficulty chewing or swallowing.
Chronic sore throat or hoarseness.
What happens during an oral cancer screening?
An oral cancer screening is painless and usually very quick. Your pediatric dentist in Castle Rock visually examines your child's lips, tongue, and mouth, checking for the symptoms of oral cancer. Then, they feel for lumps or swelling and gently pull the tongue to the side for a more thorough look at it. If they find any abnormalities, they may use a special light or dye to get a more detailed view or refer you to a doctor to get a biopsy.
In the end, these oral screenings could yield no alarming results. Then again, wouldn't you rather err on the side of caution when it comes to your child's health? You would do anything to protect your child, and that includes making sure that they get regular dental checkups and oral screenings. That way, you both can continue to enjoy their adorable smile for years to come.
About the Author
Dr. Layne Benzley is certified as a Diplomate of the American Board of Pediatric Dentistry. As a father of four young children, he knows how to help kids feel comfortable in the dentist chair. At Castle Rock Smiles, he and his staff are dedicated to delivering safe, effective care for children in a compassionate way. To schedule an appointment with him, call (303) 660-5373 or click here.