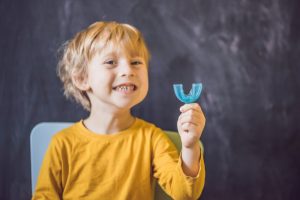 As you keep your child physically active during the current COVID-19 quarantine, are you taking steps to protect their smiles as well? The last thing you need during the coronavirus lockdown is for your little one to crack or knock out a tooth! That's why it's so important for them to wear a mouthguard, even if they're just playing football with the family in the backyard to pass the time at home. Here's everything your Castle Rock dentist wants you to know about how sports mouthguards for children can protect your child's growing smile.
Danger of Foregoing a Mouthguard
While they may seem like an overly cautious measure, sports mouthguards play a very important role in keeping your child and their oral health safe while they're active. Without one, they could potentially suffer from:
Laceration: Whether they fall, take a blow to their face, or accidentally bite their tongue or lip, your little one could injure their soft tissues and cause excessive bleeding.
Chipped, cracked, or knocked out teeth: Your son or daughter's teeth are strong, but not invincible. Without any protection, they could chip, crack, or even get knocked out in a flash.
Broken jaw: Kid's sports mouthguards don't just protect their teeth. They're also designed to help keep the jaw safe, which could prevent it from fracturing in a collision with another player.
How Children's Sports Mouthguards Work
Simply put, sports mouthguards work as a barrier to protect your little one's teeth. These thick plastic devices are shaped like a dental tray that fits over your child's top and bottom teeth. This extra layer protects the teeth from becoming damaged or lacerating the soft tissues. They also prevent the top and bottom teeth from crashing together, which minimizes their risk of breaking while also safeguarding the tongue.
Advantages of A Custom Mouthguard
Since grocery stores are considered essential businesses and are therefore continuing to operate during the COVID-19 pandemic, you may be able to purchase an over-the-counter sports mouthguard. While these "boil and bite" mouthguards are affordable and easy to come by, they wear down quickly and don't provide full protection. Instead, consider a custom sports mouthguard for your son or daughter from their Castle Rock pediatric dentist. Unlike store bought items, a custom-made mouthguard will allow your child to enjoy:
A much more comfortable fit.
Customization made for their unique facial structure.
Maximized protection of their teeth, facial muscles, and jaw.
Once your pediatric dentist's practice reopens, consider taking your child in to get a custom sports mouthguard. In the meantime, play safe, take care of your family's oral health, and contact your dentist right away if you or a loved one is experiencing a dental emergency.
About the Author
Dr. Layne Benzley of Castle Rock Pediatric Dentistry is passionate about helping the young smiles of Castle Rock, CO stay happy and healthy as they grow. He is a graduate of the Eastman Dental Center at the University of Rochester in Rochester, NY and a certified Diplomate of the American Board of Pediatric Dentistry. As a father of four himself, he understands just how important a comfortable, high-quality sports mouthguard is in a child's active life—both for their smile and your nerves! If you'd like to learn more about custom sports mouthguards for children, feel free to contact him via his website or at (303) 660-5373.