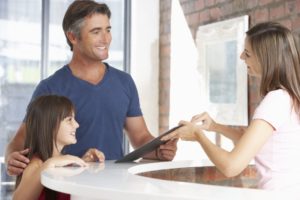 Is your child covered under your dental insurance? Whether you have a family dental plan or separate pediatric dental coverage for your son or daughter, it's important to make the most of your benefits to keep their smiles healthy. Thankfully, while dental insurance can seem confusing at times, understanding the basics can go a long way in helping you make the best decisions for your family. Your Castle Rock pediatric dentist shares five tips for understanding and maximizing your children's dental insurance coverage.
1.) Understand How Your Deductible Works
The deductible outlined in your child's dental insurance is a cost you are responsible paying for. This is the amount you'll need to pay for your child's dental treatments before your dental insurance company starts to cover them. Generally speaking, plans that have lower deductible amounts also offer lower annual maximums, while higher deductibles usually mean a higher annual maximum amount.
2.) Keep in Mind What Your Annual Maximum Is
Your annual maximum is the most your dental insurance company will pay for your child's dental care. After you've paid your deductible, your dental insurance will start to cover your child's treatments up to this amount. If your child hasn't used all of their annual maximum by the end of the year, it's a great idea to spend it on any dental work they need before your plan renews and your deductible resets.
3.) Learn Which Treatments Your Plan Covers
Every dental insurance plan is a little bit different. Typically, most policies will cover all or most of two dental checkups a year, fluoride treatments, biannual exams, and fillings. However, to determine exactly how much of every service your specific policy covers, you'll need to look at your insurance paperwork or call your insurance provider. Your dentist can help you review the details as well.
4.) Ask for a "Pre-Determination" of Benefits
It's always a good idea to ask your dentist to send a "pre-determination" of benefits before your child gets any treatments that go above and beyond a regular checkup. Your dental insurance company will process the estimate and send back a statement that breaks down what they will cover. This will help you keep an eye on your annual maximum and deductible as well as prevent any surprises when it comes to paying for your little one's treatments.
5.) Don't Let Dental Checkups Go to Waste
Having your son or daughter visit the dentist twice a year for checkups and cleanings is very important. These simple visits are almost always 90-100% covered by dental insurance and can go a long way in preventing complex, painful, and expensive issues in the long run. Make sure your little one gets a checkup every six months to make the most of their dental coverage!
If you're still concerned about the cost of your child's dental care, talk to your pediatric dentist about which dental insurance they take and what financing options are available.
About the Practice
Castle Rock Smiles has been serving the growing smiles of Castle Rock and the surrounding communities for over a decade. They firmly believe that every child deserves excellent and compassionate oral health care, so they work with their patients to maximize their insurance coverage and minimize their out of pocket expenses. They are in-network with most PPO plans, are a Medicaid provider, and offer financing options to help make each treatment as affordable as possible. TO learn more, they can be contacted via their website or at (303) 660-5373.