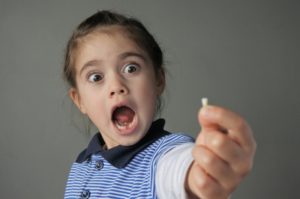 Most kids are excited about running up to their parents or schoolmates to exclaim: "I lost my first tooth!" However, for some children, the thought of losing baby teeth is terrifying and traumatic. But it doesn't have to be! If your son or daughter is anxious about having their baby teeth fall out, there are a few steps you can take to put their mind at ease. Here are five ways to make this process less scary and more fun for your child!
1.) Use a Positive Tone
When talking to your little one about the process of losing baby teeth, make sure to use a positive, upbeat tone. The way you talk about the situation heavily influences how your child perceives it, so using a friendly, happy tone will help them feel more positive.
2.) Play Up the Tooth Fairy
Telling your little one about the Tooth Fairy is a great way to infuse some childhood magic into the process of losing teeth. And of course, the incentive of finding a dollar or two under their pillow afterwards can go a long way to help some children overcome their fears as well!
3.) Put Rumors to Rest
Your little one may be anxious about losing a tooth because of what they've heard from their friends or classmates. Take some time to explain to them that losing baby teeth is a natural process and that they'll be enjoying their new permanent teeth before they know it!
4.) Celebrate It as a Milestone
Another way to help your son or daughter look forward to losing their baby teeth is to plan on celebrating it! Remind them that losing a baby tooth is an important milestone and make a plan to celebrate it falling out with a trip to the movies, a toy, or other small reward. This will help them associate positive emotions with the process instead of feeling nervous.
5.) Remind Them to Keep You in the Loop
You want your child to feel comfortable with the idea of losing a baby tooth, but not so much that they don't tell you when it happens! If they knock a tooth out unexpectedly while playing, you should see your Castle Rock children's dentist right away. They may need to place a space saver to prevent the neighboring teeth from shifting into the gap and trapping the permanent tooth underneath.
Losing baby teeth should be an exciting experience for your son or daughter, not nerve-wracking! Use these tips to help them look forward to getting their new smile.
About the Author
Dr. Layne Benzley of Castle Rock Smiles is a board-certified pediatric dentist who is passionate about making oral health fun for growing smiles. He and his talented team go above and beyond to create a friendly atmosphere and make every visit as pleasant as possible. If your little one needs help overcoming their fear of the dentist, he offers a variety of mom-approved sedation dentistry options to ensure your son or daughter is as comfortable, safe, and relaxed as possible while caring for their smile. To learn more, he can be contacted via his website or at (303) 660-5373.