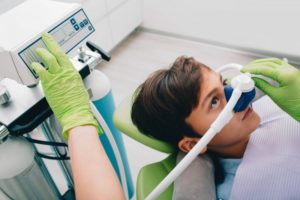 Does your child have an upcoming dental treatment that may cause them anxiety or fear? Most children aren't thrilled about visiting the dentist, but it shouldn't cause dread! Dental anxiety can make even the simplest checkups overwhelming for both you and your child, which can lead to serious oral health problems in the future. Thankfully, sedation dentistry has reliably helped countless children feel safe and relaxed while they get the dental care they need. Read on as your Castle Rock pediatric dentist answers all your questions about these treatments, including "Is sedation dentistry safe for children?"
What Is Sedation Dentistry?
Essentially, sedation dentistry is the practice of using different types of antianxiety medications to help a patient feel comfortable and relaxed during their treatment. They'll remain conscious all throughout their appointment, but they may not remember anything about it afterwards. Two common types of sedation dentistry include:
Nitrous oxide sedation: Sometimes called "laughing gas," this colorless and odorless gas is administered through a small mask over the patient's nose. Within moments, they'll feel light, relaxed, and happy. The dentist can adjust the level of sedation at any time to ensure maximum safety and comfort. After the treatment is complete, the effects of sedation wear off within minutes of the mask being removed and the patient can go back to the rest of their day uninterrupted.
Oral conscious sedation: This antianxiety medication is prescribed by your dentist ahead of time and taken before the patient even reaches the office. By the time the appointment starts, the patient will feel drowsy and at-ease. They'll remain conscious enough to respond to basic instructions from their dental team, but they're not likely to remember anything after their treatment. The effects of this sedation method last much longer, so the patient can expect to feel groggy for several hours and should plan on resting for the remainder of the day.
Is Sedation Dentistry Safe for Children?
Sedation dentistry has helped countless patients of all ages overcome their fears to get the care they need. These methods have been refined and perfected for hundreds of years. Both the American Academy of Pediatrics and the American Academy of Pediatric Dentistry recognize professionally administered sedation dentistry as a safe and effective technique to reduce anxiety and discomfort in children during dental procedures. While your child is sedated, all their vital signs will be carefully monitored to ensure they are as comfortable and safe as possible. Additionally, there will always be at least two people in the room with advanced training in life support just in case there are any problems.
Which Children Are Good Candidates for Sedation Dentistry?
As long as your child is in good health, sedation dentistry may be right for them if they:
Are extremely fearful about visiting the dentist.
Have a strong gag reflex or sensitive teeth.
Are having a lot of dental work completed at once.
Are having a complex treatment completed.
Can't sit still for an extended period of time.
Have special needs or require extra care.
Keeping your little one's smile healthy shouldn't be an anxiety-filled experience for either of you. Talk to your Castle Rock pediatric dentist today to see if sedation dentistry is right for your child.
About the Author
Dr. Layne Benzley is dedicated to making oral healthcare fun, educational, and comfortable for the growing smiles of Castle Rock and the surrounding communities. While he and his experienced team go above and beyond to create a fun, inviting, and kid-friendly atmosphere, they know that isn't always enough for their most anxious patients. That's why Dr. Benzley is proud to offer options like nitrous oxide sedation and oral conscious sedation to help every appointment go as pleasantly as possible. To see if sedation dentistry is right for your son or daughter, he can be contacted via his website or at (303) 660-5373.