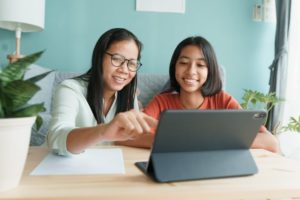 Your child's teenage years involve complex physical and social development, and as they begin to turn more into an adult each day, it's still crucial that they receive the specialized care they deserve, because they're still not fully grown. The same applies to their smile. Their mouth is still developing, which is why it's still important that they continue visiting their pediatric dentist. Read on to learn the top four reasons why sticking to visiting their pediatric dentist is the best decision for their health.
Your Teen's Smile is Still Growing
Even though your child may have done most of their growing by the time they become a teenager, their mouth will still be developing. Board-certified pediatric dentists have specialty training and education on taking care of growing smiles, allowing them to provide unique insight and the best preventive methods to keep your child's smile as healthy as possible. Their facial structure and jaw bone are still changing, and their pediatric dentist will be able to monitor their oral growth and make sure that these changes are happening as they should be.
Teaching Them Responsibility & Independence
Your teenager is entering into a transitional stage in their life where they're learning how to care for themselves, but they still need a little help and guidance. It can be tempting for them to stay up all night playing video games and forget to brush their teeth, or to gorge on delicious sweets without being mindful of how it impacts their smile. With a little guidance from their pediatric dentist, they can learn about why these habits can have lasting impacts from a professional that can comfortably and confidently educate children about their oral health without making them scared to visit the dentist.
They May Require Orthodontic Intervention
As a teenager, your child may run into some orthodontic problems. Pediatric dentists are most familiar with looking out for these issues because they typically begin to show signs of them during middle and high school, which is the age-range that they're specially trained to treat. In the case that your child does require braces, they'll be the first person to let you know and work with an orthodontist to specialize their care.
Wisdom Teeth Could Be Beginning to Grow In
Wisdom teeth get their name because they grow in between the ages of 16 and 25. A pediatric dentist can keep an eye out for these intrusive third molars that could cause harm to your child's smile if they don't have enough room for them in their mouth or they're impacted.
Although pediatric dentists are often associated with infants and children, they have specialized education and knowledge that makes them the ideal oral healthcare provider for teens, too!
About the Author
Dr. Layne Benzley is a dedicated pediatric dentist who is certified as a Diplomate of the American Board of Pediatric Dentistry. He offers a wide-array of dental services to infants, children, and teens, and keeps up with the latest findings in his field to be able to provide top-notch dental care. If your teen is due for their bi-annual checkup, you can schedule an appointment by visiting Castle Rock Smiles Pediatric Dentistry's website or call 303-660-5373.