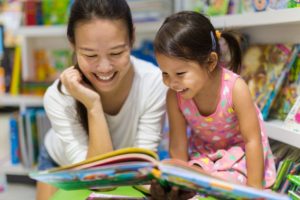 Are you looking for a way to prepare your son or daughter for their upcoming dental appointment, but aren't sure how to talk to them about it? After all, saying the wrong thing could make them more anxious! Thankfully, there are plenty of kid-friendly ways to ease your little one's fears. One of the best is reading children's books about visiting the dentist! Here are a few great books that can help set your child up for a pleasant (and maybe even fun!) dental appointment.
Children's Books About the Dentist
Parents and kids alike share a fear of the unknown. You can help your child feel much less anxious about the new sights and sounds they'll experience at the dentist's office simply by telling them about it in a calm, easy-to-understand way. Plenty of talented children's authors have met this challenge with fantastic results! Some of our favorite children's books about visiting the dentist include:
Just Going to the Dentist, by Mercer Mayer
The Berenstain Bears Visit the Dentist, by Stan Berenstain
Daniel Goes to the Dentist, by Alexandra Cassel Schwartz
Curious George Visits the Dentist, by Margret & H. A. Rey
The Tooth Book, by Dr. Seuss
Dentist Trip (Peppa Pig), by Scholastic
Dora Goes to the Dentist, by Random House
Do Dinosaurs Have Dentists, by Patrick O'Donnell
The Importance of Positive Dental Appointments
Helping your child have a relaxing and smooth dental appointment is a reward in and of itself. But there are also long-term rewards to be gained from smooth dental checkups! Forming a good first impression of the dentist and associating appointments with good memories can make all the difference for your child's oral health for the rest of their life. Positive early visits can help prevent dental fears or phobias from developing later. If your son or daughter feels comfortable and confident about visiting the dentist, they're much more likely to continue coming in for regular dental checkups for years to come.
With a few simple preparations, you can help make sure your child's next trip to the dentist is a great one! Consider reading one or more of these books with them to get your little one more excited about taking care of their smile.
About the Practice
For over 10 years, the talented team of Castle Rock Smiles Pediatric Dentistry has been providing fun, personalized, and gentle dental care for the growing smiles of Castle Rock and the surrounding communities. Board-Certified pediatric dentist Dr. Layne Benzley is proud to offer specialized care for children ages 0-18 to help set them up for a lifetime of happy, healthy smiles. If you have more questions about how to best prepare your little one for their appointment, he and his compassionate team would be more than happy to provide recommendations and suggestions. To reach him, contact him via his website or at (303) 660-5373.